INTERNATIONAL SCIENTIFIC-EDUCATIONAL CONSORTIUM
Slovakia-Belarusian Consortium of mutual cooperation of scientific, educational, technological and production areas in the rubber industry:
- SV Engineering, s.r.o.,
- Trenčianska univerzita Alexandra Dubčeka v Trenčíne,
- Fakulta priemyselných technológií v Púchove,
- Bieloruská štátna technologická univerzita,
- Dupres Consulting, s.r.o.

COLLABORATION IN SCIENCE AND TECHNOLOGY, EDUCATIONAL ACTIVITIES
International cooperation in development and research:
- MITCHT Lomonosova, MOSCOW
- INTYRE, MOSCOW
- IGTT Zlín, CZECH REPUBLIC
- ITC Zlín, CZECH REPUBLIC
- ESI Group Plzeň, CZECH REPUBLIC
- VUT Brno, CZECH REPUBLIC
- VÚCHV Svit, SLOVAK REPUBLIC
- STU Bratislava, SLOVAK REPUBLIC
- TU Košice Fakulta BERG, SLOVAK REPUBLIK
SVE INTERNATIONAL COOPERATION
The close and successful cooperation with European manufacturers of machinery and equipment for the rubber industry, based on cooperation in introducing technology for customers as well as contracted contributing to the specifications of prototypes and modernization of existing equipment (M.E.R.T.C., Mesnac, Konstrukta Industry, VIPO, HF, Herbert, Zeppelin, VMI, Simcorp, Goms, EMC, Scheiter, PneuForm ....)
Wide contractual and active cooperation with testing centers, organizations and with the independent certification and regulation approval units (TÜV SÜD, DEKRA, IDIADA, IVALO, ShIC Vershina, VIPOTEST Continental, NIISP, Slovakia Ring, DUK - TC Test ...)
SVE provides its customers the modern intensive laboratory (drum) tests and road tests to shorten the time and cost to verify the quality of finished products of all classes. These tests are used in various modifications also by TOP tire manufacturers.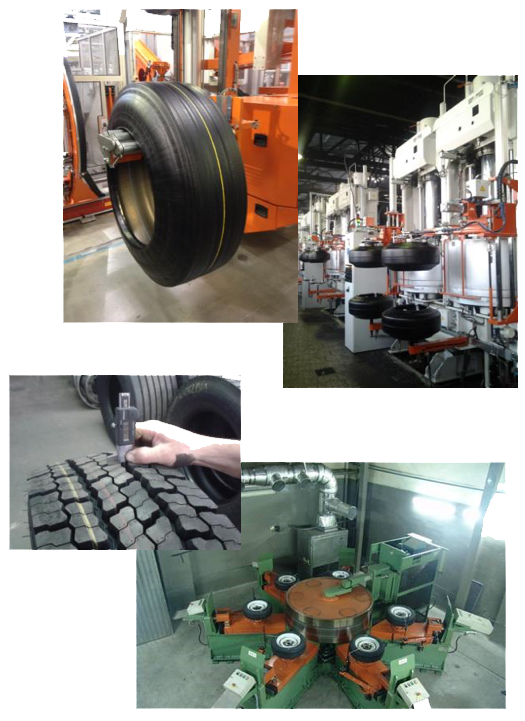 SVE EXPERIENCE AND REALIZED PROJECTS
The company and its specialists have overcome a number of successful Euro technology transfer projects, up-grade of technologies in existing plants, the implementing of cost saving programs, the introduction of quality systems, cost and maintenance management systems, as well as technical and technological audits for modernization of processes, consulting, certification , approval and testing (SIBUR RT, Cordiant Yaroslavl, Trayal, Mitas SAVA, BOCHEMIE, Dneproshina j.s.h.c., Belshina, JV Matador-Omskshina, Kordárna Group – Slovkord, Matador Addis Tyre, DENA Irán, BAREZ Irán, PRINX China, MIKONA a.s., MIKON, ...)

SVE EXPERIENCE AND REALIZED PROJECTS
SVE introduced into the company Cordiant its technology and know-how, resulting in a remarkable increase in international sales of radial truck tires Cordiant Proffesional and Tyrex brand, produced at the plant Cordiant, Yaroslavl.